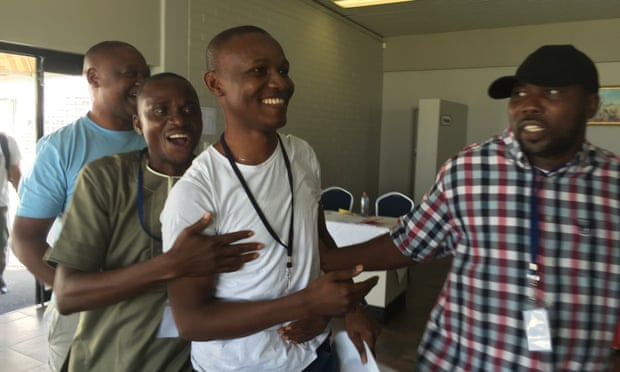 At a small table in a quiet room in a harness racing club in Perth, Western Australia, a softly spoken man with a talent for anagrams spells out the word "felty" in small plastic tiles on a game board. In another room, 20 metres away, the crowd erupts.
The player is 32-year-old Wellington Jighere, from Nigeria, who beat 129 competitors to win the World English-language Scrabble Players' Association championship on Sunday, defeating Englishman Lewis MacKay with four straight wins in the best-of-seven final round.
Players had begun arriving at Gloucester Park shortly after 8am. Wearing shirts with slogans such as "It's your word against mine" and "Triple nerd score", they file upstairs to one of the long function rooms where rows of numbered tables have been set up, each bearing two Scrabble boards and two timers. Most competitors are older women and young – or at least younger – men. Everyone is either a player or an official, except me.
A few people introduce themselves, assuming I'm a player they somehow missed in the previous four days of competition. One woman pauses and, still shaking my hand, looks at her friend. "Calla. Is that a Scrabble word?" she asks.
"It is," the friend confirms. "Seven points."
A player named Anderina McLean, from New Zealand, explains this is normal. "People meet you and say, 'Anderina. Any good scrabble words in that?'"
McLean is here to compete in the open tournament, which has been running alongside the championship rounds since Wednesday. Sunday's round is an all-in: competitors play eight games and are ranked according to the total of their winning or losing margins. The championship rounds, with the exception of the final, finished on Saturday, so a number of championship players join the open pool. Among them is Nigel Richards, the highest-scoring Scrabble player of all time.
In July Richards won the francophone world Scrabble championships despite not being able to speak more than a few words of French, having memorised the French Scrabble dictionary in nine weeks.