And the world isn't a terrible place after all.
Today I am happy and proud to be a citizen of this world.
It warms my heart to see the world unified and standing against racism, sexism, discrimination, bigotry and every other hateful word that qualifies what Trump and his party members stand for on this dreadful #Trumplnauguration day.
To see 50 British MP's and so many countries (Paris included)  give their blessings to the #StandUpToTrump campaigns held at the American embassy in London, as well as in the centres of Edinburgh, Cardiff, Birmingham, Leeds and Manchester is sweet music to my soul.
In total, protests were expected in more than 20 British towns and cities, from Southampton to Glasgow.
They all planned to coincide with Donald Trump's inauguration ceremony on Friday afternoon British time.
A banner that reads "Migrants are welcome here" was splayed across Westminster bridge.
On the millennium bridge was written: "open minds"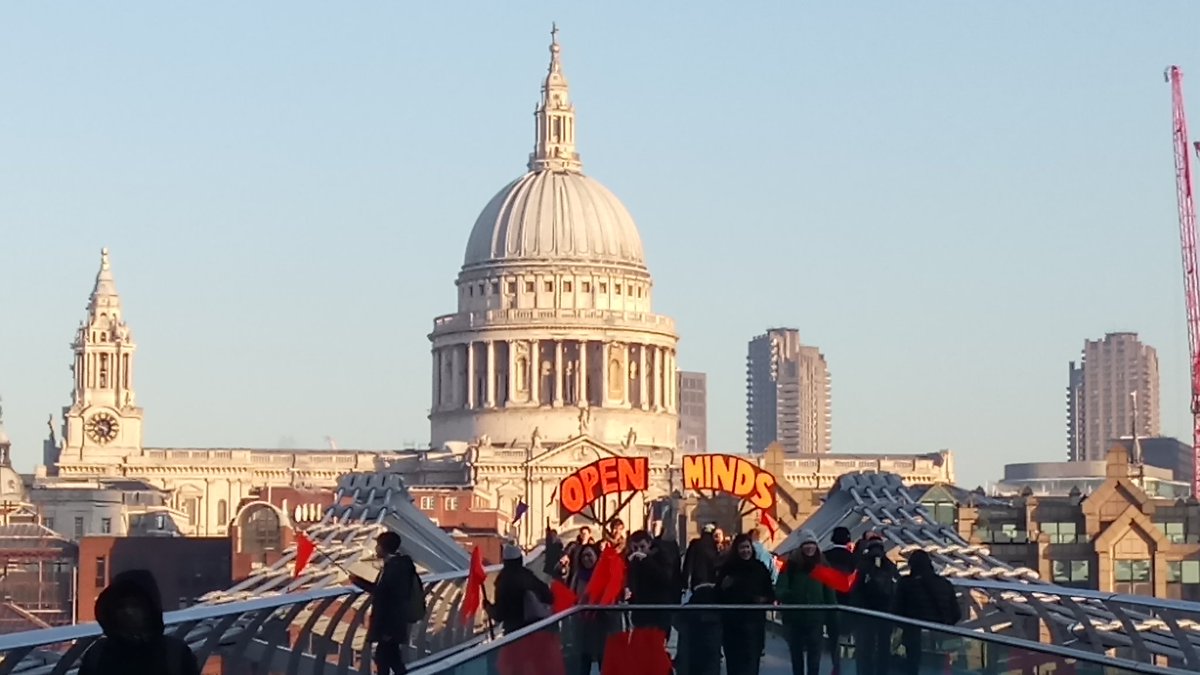 "Refugees welcome" were seen in other places in the UK.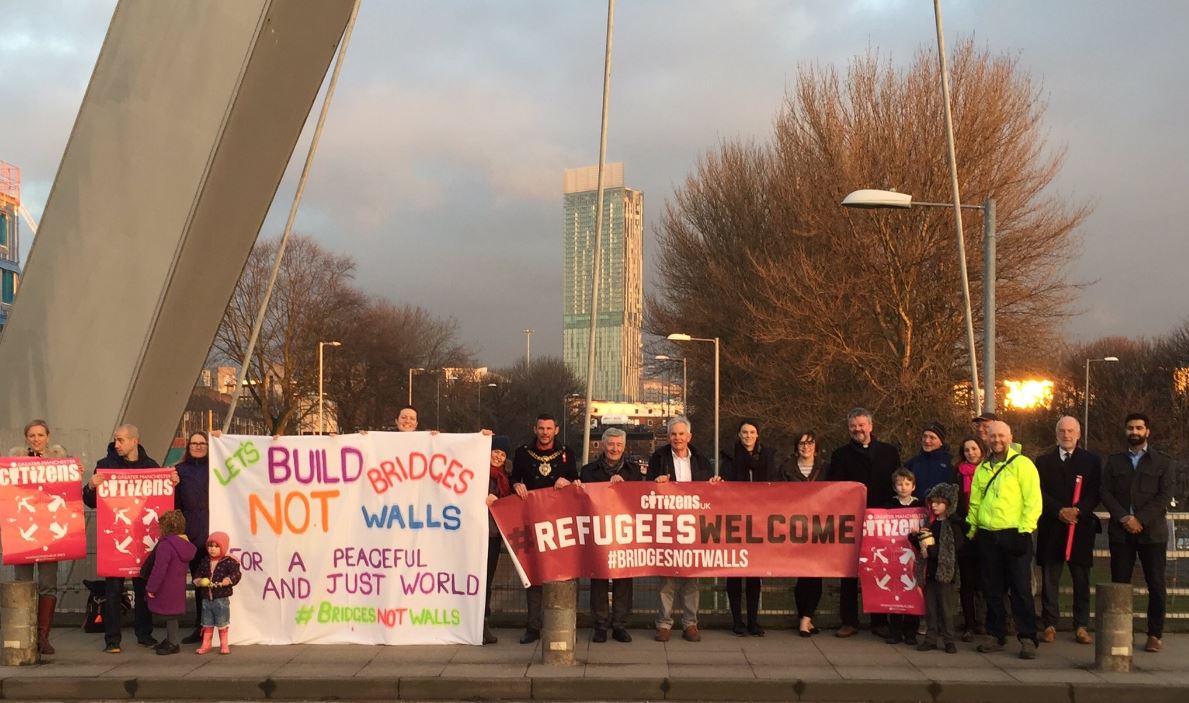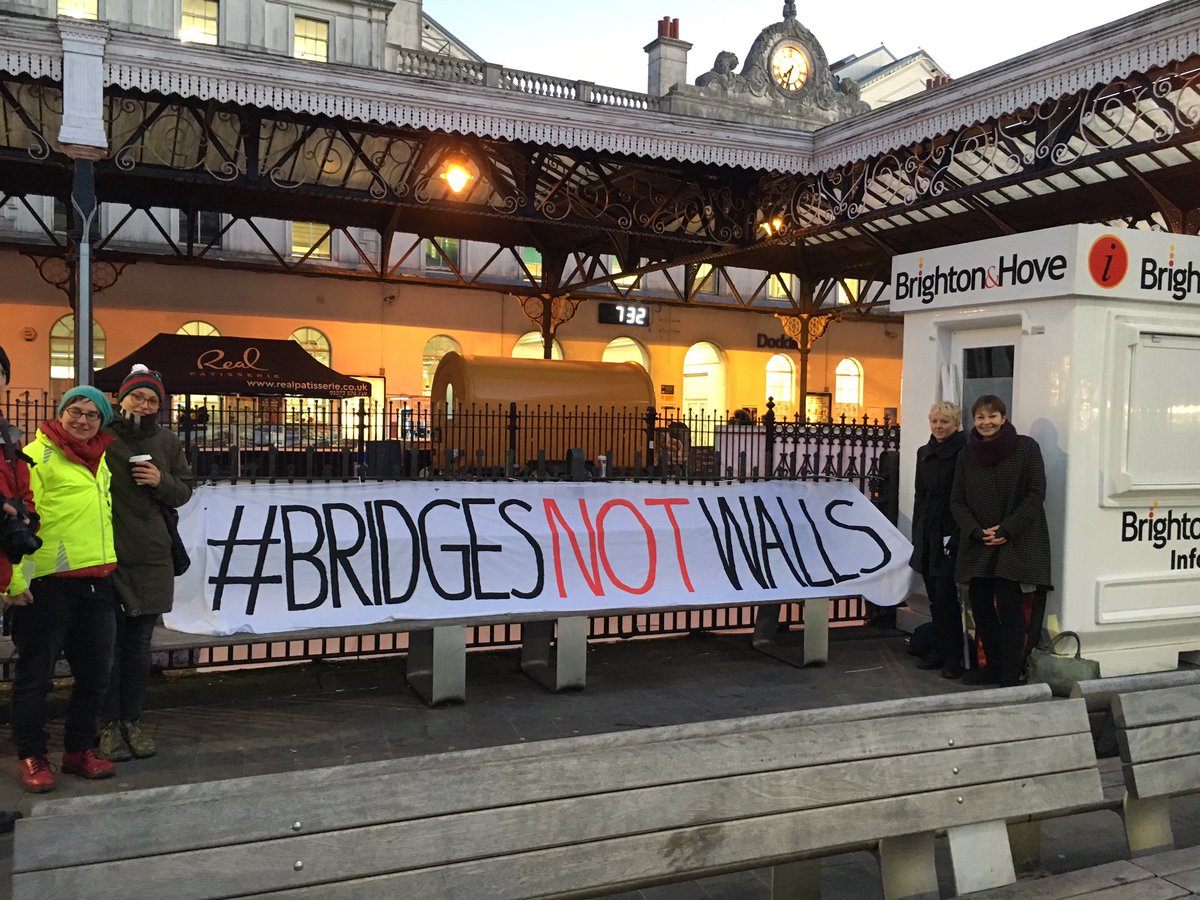 Tower Bridge: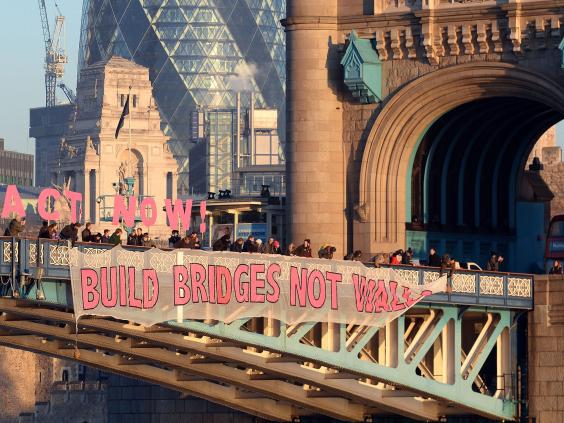 Waterloo bridge;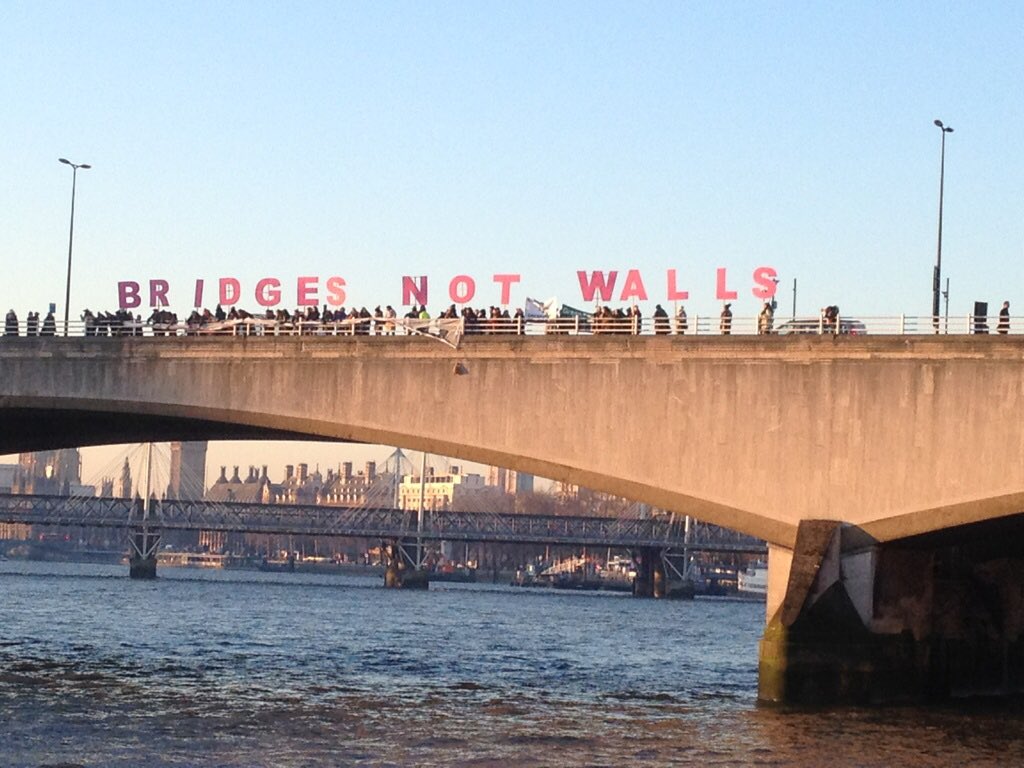 The glowing backdrop against the Eiffel tower reads "Bridges not walls"
bridges across the Seine.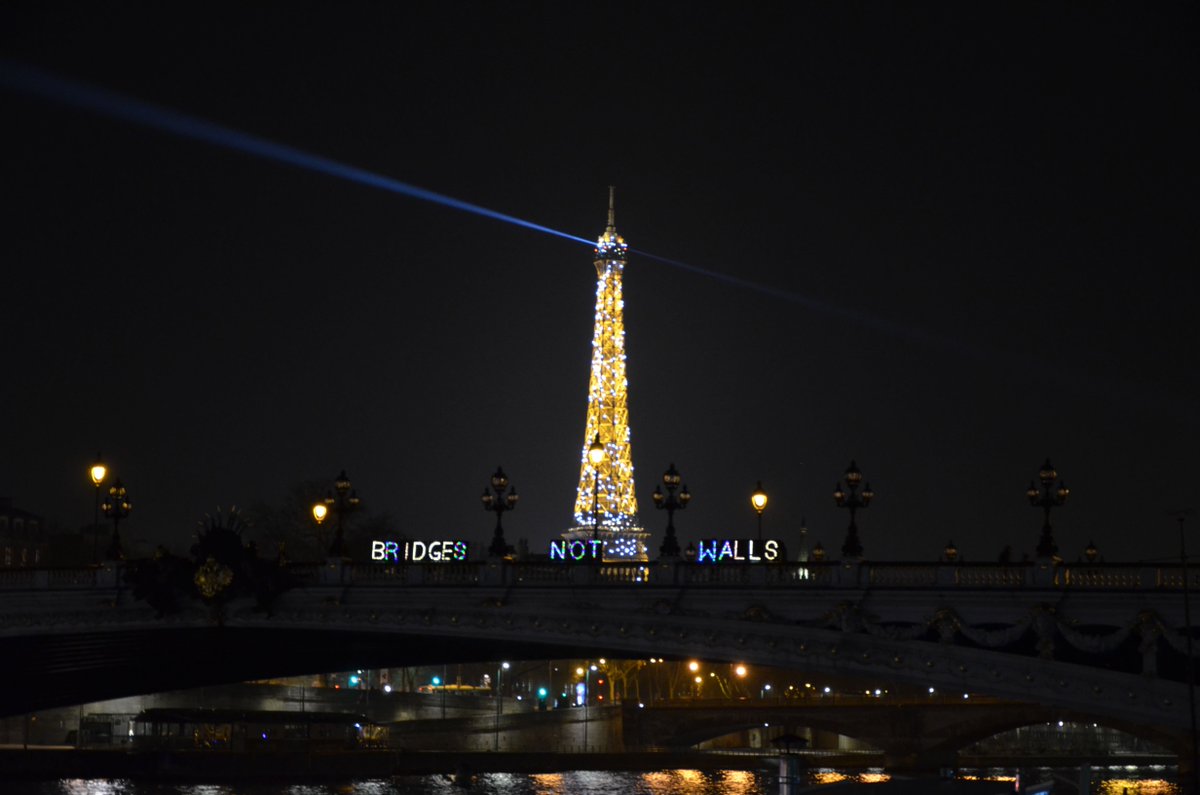 The Bridges Not Walls movement also reached Kathmandu, the capital of Nepal.
In a statement Nona Hurkmans of Bridges not Walls said: "On Trump's inauguration day, we're taking action to show our support for groups under attack – here in the UK, across Europe and in the USA – and to reject the rise of a dangerous and divisive far right politics.
"We won't let the politics of hate peddled by the likes of Donald Trump take hold."
With all this fervent love from across the world, I am reassured that the world has it's head straight on after all.
In a statement issued via social media, Stand Up to Racism also said: "The election of Donald Trump as US president means the most powerful office on Earth belongs to someone who promised to build a giant wall along the Mexican border, the expulsion of 11 million "illegal" immigrants and "extreme vetting" for Muslims entering the country.
"He described Mexican immigrants as 'criminals' and 'rapists', and condoned the beating of a Black Lives Matter activist at one of his rallies.
"He has also chillingly sought to downplay the severity of sexual violence, dismissing boasts of sexually assaulting women as 'locker room talk'."
American citizens from different states have travelled to Washington to take to the streets in protest.
Most were heard chanting: No Trump! No KKK! No fascist USA!
Pink hats became the symbol of the anti trump women's march.
The "pussyhat project" was born. Knitters – mostly women – started crafting handmade pink caps with cat ears, a reference to Trump's vulgar statements about grabbing women's genitals, which were revealed in a leaked video shortly before the election.
What started as a project among Suh, Jayna Zweiman and other friends at the Little Knittery in Los Angeles' Atwater Village section has turned into a global movement. Knitting groups at yarn stores, cafes and coffee shops from Seattle to Martha's Vineyard have been churning out hats, and craft stores have reported a run on pink yarn. As word spread on social media, thousands of hats – knit with skeins of thick magenta or fuchsia yarn – have been made around the world, including in Australia and Austria. They were
all being sent to collections spots around the country and a basement in Virginia ahead of the Saturday march.
And there were lots of other anti trump paraphernalia flying around today.
Even Nancy Sinatra balks at the thought of her father's song being played at the inauguration ball.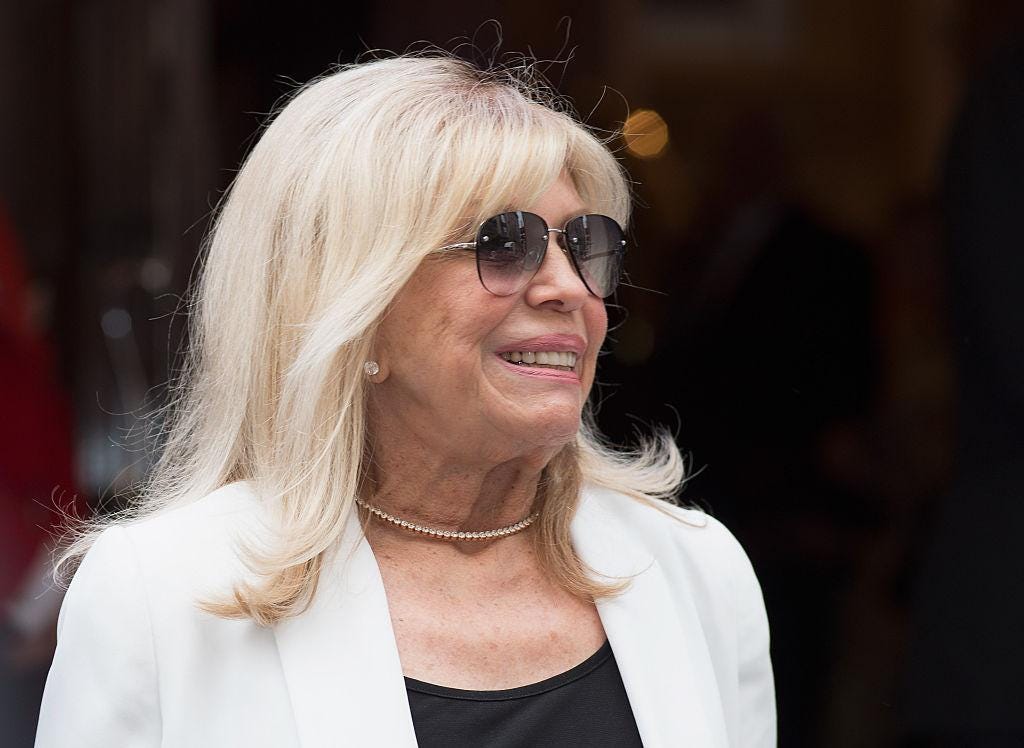 Nancy Sinatra made it clear two weeks ago that she believed her father Frank Sinatra would not have supported Donald Trump, or performed at his inauguration.
Now a fan has asked her how she feels about the prospect of 'My Way' being sung at the event, after reports that the famous song would be performed for Trump's first dance with his wife Melania as US President.
"Just remember the first line of the song," she responded.
Nancy Sinatra, best known for singing 'Bang Bang' and 'These Boots Are Made For Walkin", was referring to the line "And now the end is near"
It seems fitting considering the concern over how a Trump presidency will unfold and also given Sinatra's previous comments, that "DT [Donald Trump] has very bad judgement. It's going to be a rough ride".
It is the most frequently-played song at British funeral services.
Sinatra himself came to hate the song despite popularising it in 1969, according to his daughter Tina, who said he "always thought that song was self-serving and self-indulgent".
Let's all stand firm and show the world that combined voices from all around the world, through social media and peaceful protests can indeed make a powerful difference.
Please check out the official video – Erupt and matter by Moby and & the void pacific choir.
It was released today also in support of #Trumplnauguration – Watch and enjoy!!!