Ashley Judd just absolutely brought down the house with her spoken word Women's March speech
Scarlet Johanssen, Alicia Keyes, Janelle Monae, America Ferrera, Ashley judd, Michael moore, and many more admirable personalities took to the centre stage to share their passion for women hood and their stance against anything or anyone who threatens womanhood.
After righteously stealing the spotlight from filmmaker Michael Moore, Ashley Judd performed a scorching spoken word piece for the most powerful moment of Saturday's Women's March on Washington so far.
Judd started by saying the piece was by Nina Donovan, a poet whose work she's promoted online before.
"I'm a naaaaaaaasty woman," Judd, an actress-turned-PhD student, began.
"I'm not as nasty as a man who looks like he bathes in Cheeto dust," she said. "I'm not as nasty as Confederate flags being tattooed across America."
She described a country where "blacks are still in shackles and graves just for being black" and "slavery has been reinterpreted as the prison system by people who see melanin as animal skin.
"I didn't know devils could be resurrected, but I feel Hitler in these streets, a mustache traded for a toupée," Judd continued. "I'm not nasty like the combo of Trump and Pence being served up to me in the voting booth. I'm nasty like the battles my grandmothers fought to get me into that voting booth."
Then she really brought it home.
"I'm nasty, like my blood stains on my bed sheets. We don't actually choose when and where to have our periods," Judd shouted. "Is your erection really more than protecting the sacred, messy part of my womanhood? Is the blood stain on my jeans more embarrassing than the thinning of your hair?
"And our pussies ain't for grabbing," she said. "They're for reminding you that our walls are stronger than America's walls ever will be."
Scarlet Johansen spoke loudly on women and female health care:
"Anything that is a threat to women affects all women  and though i'm not on social media and I'm usually a private person, I have to take a stand on this one.
Women let's support each other. Get active in communities, speak out. We will not stop fighting to make female health care available to all just as it has been made in the past for "ivanka."
Always move forward, never backwards, don't give up your power. Don't feel helpless. I urge you all to make a difference.
Volunteer to help organisations that help women. Donate to causes."
At the Atlanta march, congressman and civil rights leader John Lewis and took to the stage.
The crowd chanted "we love John", "thank you John" and "district five", a reference to Lewis' district that Donald Trump insulted last week by calling it "falling apart" (the Guardian went there this week and found affluent neighborhoods).
Singer

Janelle Monáe

takes the stage, saying her grandmother was a sharecropper and her mother was a janitor.
"It was woman that gave you Dr Martin Luther King Jr. It was woman who gave you Malcolm X. And according to the bible, it was a woman who gave you Jesus," said Monáe.
Surprise guest singer

Alicia Keys

comes out and starts quoting from Maya Angelou's Still I Rise poem.
Then began belting out her hit "This Girl is on Fire," changing the lyrics to "these girls are on fire".
Reports that Chicago is the second biggest women's march after the DC event.
Large crowd in the thousands had begun to filter in with rain ponchos umbrellas and signs reading "rape is not presidential" and "hate does not make America great". The crowd rapidly exceeded the confines of the city's civil and human rights center, spreading out into the surrounding streets.
California Senator Kamala Harris addressed the crowd:
"We are at an inflection point at the history of our country, a pivotal time similar to the 1960's civil rights movement.
It's a moment in time we have also experienced in our personal lives, when we look in the mirror, reflect and have to ask ourselves, who are we?
The answer Is a good one I believe, even as imperfect as we may be.
Part of what makes us great is that we are a nation founded on certain ideals that we are all and should be treated das equals, that we should all be treated equally, and we should all worship freely.
We the people have the power and there Is nothing more powerful than a group of determined young women marching and standing side by side with their men and son and brothers."
March organizers Tamika D Mallory, Linda Sarsour and Carmen Perez take to the stage to talk about intersectional feminism, and note that while many white women have only become politically energized and angry because of this election, many women of color have been oppressed and fighting politically for years.
Mallory talks about how for many white women the election has made them feel like how black women have felt their whole lives.
"For some of you it is new, for others of us it is not so new at all," she declares, before listing the names of black people who've been killed by police or while in police custody or because of racial violence – Sandra Bland, Philando Castile, Michael Brown, Trayvon Martin.
"Put your pride aside, and stand up for the most marginalized people in this society. because if you stand for them, you stand for all," says Mallory.
"Dr King said I will not remember the harsh words of my enemies, I will remember the silence of my friends," declares Mallory.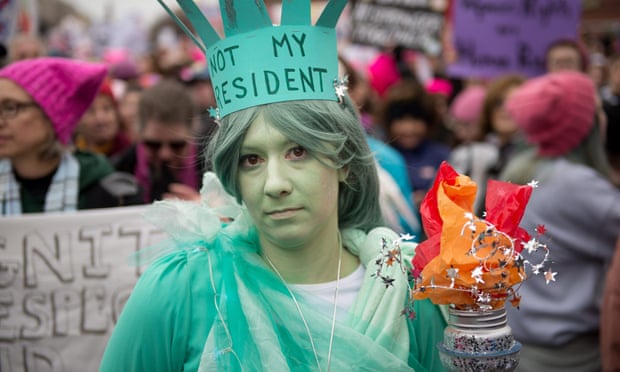 Nothing like a little neighborly love, eh?
Allegra Fulton bussed in from Toronto with a band of women who call themselves "the Nasty Women of the North".
They waved pink flags and wore matching kitten beanies.
"We don't live here but America lives in us, you know?" Fulton said.
She didn't have time for a long chat as they marched through the crowd getting mobbed by women expressing gratitude for the support of their neighbors.
"You're all welcome," one of the Canadian women said.
"I love Trudeau," a woman squealed as they passed, referring to Canada's prime minister Justin Trudeau, an avowed feminist.