Rock icon Johnny Hallyday, known as French Elvis, dies at 74
PARIS (AP) — Johnny Hallyday, France's biggest rock star for more than half a century and an icon who packed sports stadiums and all but lit up the Eiffel Tower with his high-energy concerts at the foot of the Paris landmark, has died. He was 74.
President Emmanuel Macron, who knew the star off-stage, announced his death in a statement early Wednesday, saying "he brought a part of America into our national pantheon." Macron's office said the president spoke with Hallyday's family, but didn't provide details about where the rocker died.
The French media reported widely that he died at his home west of Paris, which was quickly surrounded by mourning fans and police providing security.
Hallyday had had lung cancer and repeated health scares in recent years that dominated national news, and recently returned from a hospital stay — yet he continued performing as recently as this summer.
Celine Dion was among stars sharing condolences for a rocker with a famously gravelly voice who sold more than 100 million records, filled concert halls and split his time between Los Angeles and Paris. Brigitte Bardot tweeted: "Johnny is a monument. It is France!"
Some of France's leading political figures on the left and right joined Macron in mourning the loss of "Johnny," as he was known. Former President Francois Hollande, the Socialist leader replaced by Macron, said Hallyday "is part of our national patrimony."
Hallyday fashioned his glitzy stage aura from Elvis Presley, drew musical inspiration from Chuck Berry and Buddy Holly, performed with Jimi Hendrix, and made an album in country music's capital, Nashville, Tennessee.
His stardom largely ended at the French-speaking world, yet in France itself, he was an institution, with a postage stamp in his honor. He was the country's top rock 'n' roll star through more than five decades and eight presidents, and it was no exaggeration when Macron wrote "the whole country is in mourning."
"We all have something of Johnny Hallyday in us," Macron said, praising "a sincerity and authenticity that kept alive the flame that he ignited in the public's heart."
The antithesis of a French hero right down to his Elvis-style glitter and un-French name, Hallyday was among the most familiar faces and voices in France, which knew him simply as Johnny, pronounced with a slight French accent and beloved across generations.
He released his last album "Rester Vivant" — or "Staying Alive" — last year, and performed this summer as part of the "Old Crooks" tour with with long-time friends and veteran French musicians Eddy Mitchell and Jacques Dutronc.
Former President Nicolas Sarkozy, as mayor of the rich enclave of Neuilly-sur-Seine on the western edge of Paris, presided in 1996 over the entertainer's marriage to his fourth wife, Laeticia.
"For each of us, he means something personal. Memories, happy moments, songs and music," Sarkozy said in 2009, days after Hallyday, then 66, was hospitalized in Los Angeles. Sarkozy called the Hallyday family during an EU summit and gave updates on the singer's condition during news conferences.
The star all but lit up the Eiffel Tower during several free concerts, one on Bastille Day in 2009, attended by more than 500,000 people.
Hallyday appeared in Johnnie To's "Vengeance" (2009) and had talked about giving film a bigger role in his life.
However, it was the rocker's personal life, and his marriage to Laeticia, that gave him a mellow edge. He spoke lovingly of daughters Jade and Joy, who were adopted from Vietnam.
"I'm not a star. I'm just a simple man," he said in a 2006 interview on France 3.
Hallyday is also survived by two other children, Dave, a singer fathered with Vartan, and Laura Smet, whom he had with noted French actress Nathalie Baye.
Johnny Hallyday was Honored With a Rock-Star Funeral (and Hundreds of Motorbikes)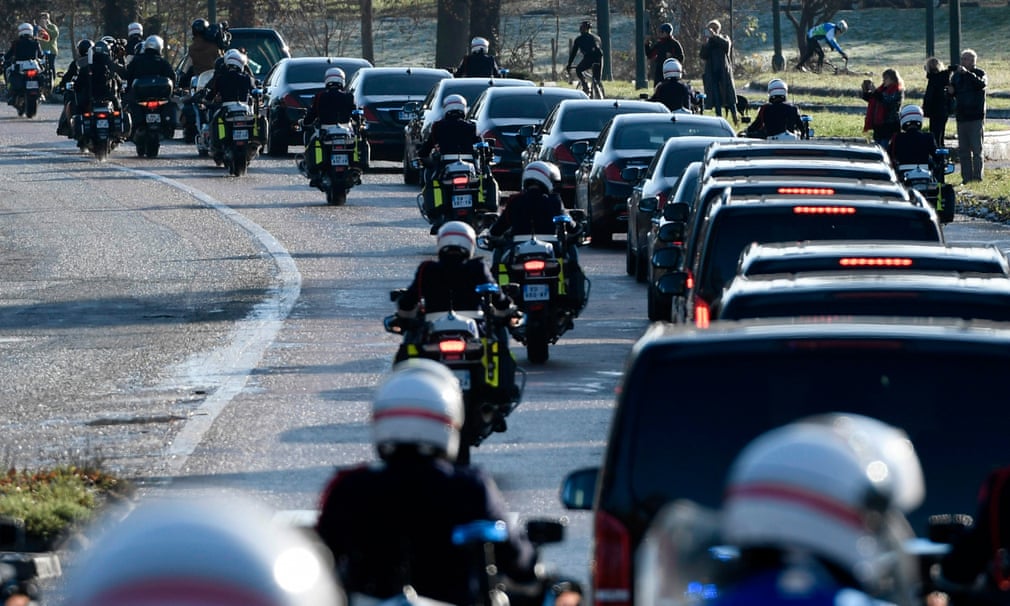 A giant black and white portrait of Mr. Hallyday had been set up in front of the Madeleine church, where his funeral was held and attended by dozens of famous singers, actors and top government officials, including President Emmanuel Macron and two of his predecessors, the socialist François Hollande and the conservative Nicolas Sarkozy.
"You had to be here for Johnny, because from the beginning, Johnny was there for you," Mr. Macron said from the steps of the Madeleine church before Mr. Hallyday's funeral.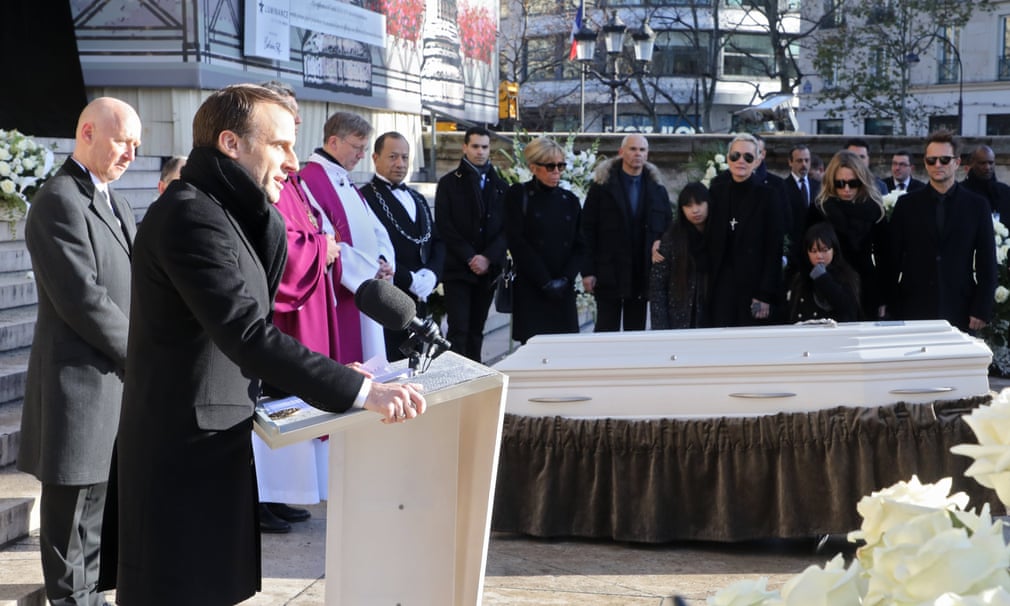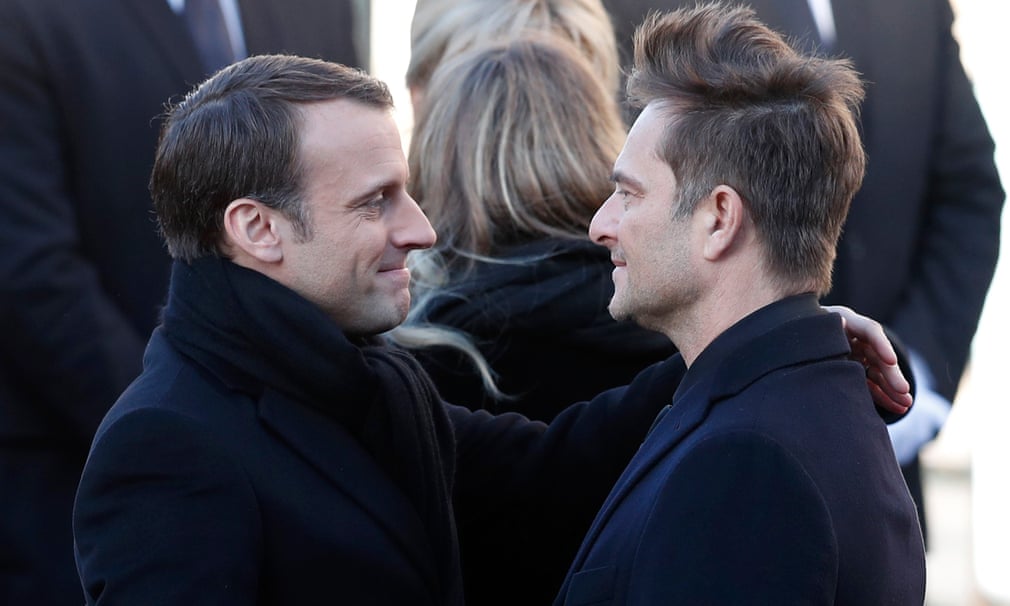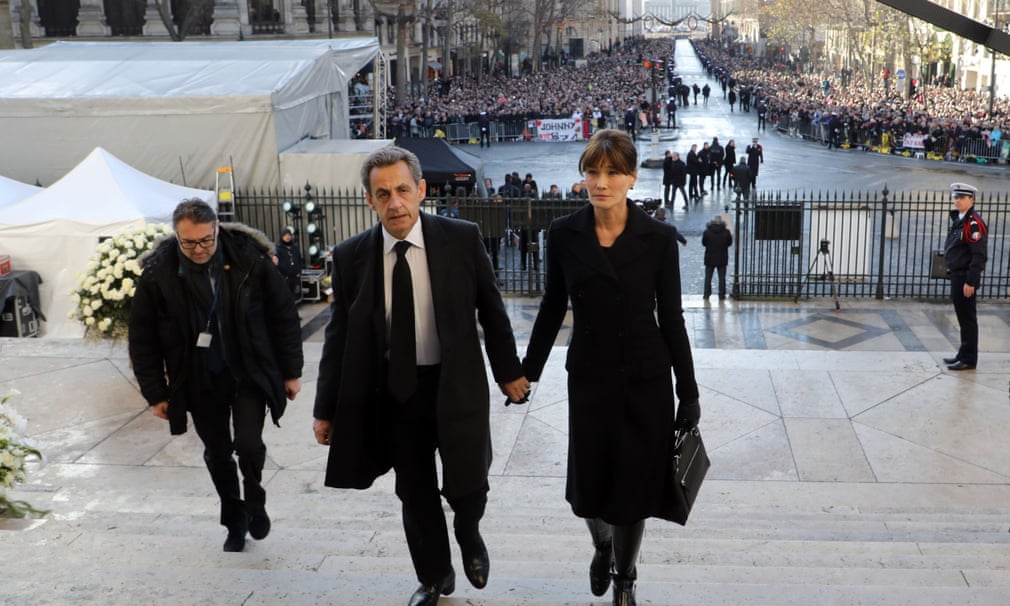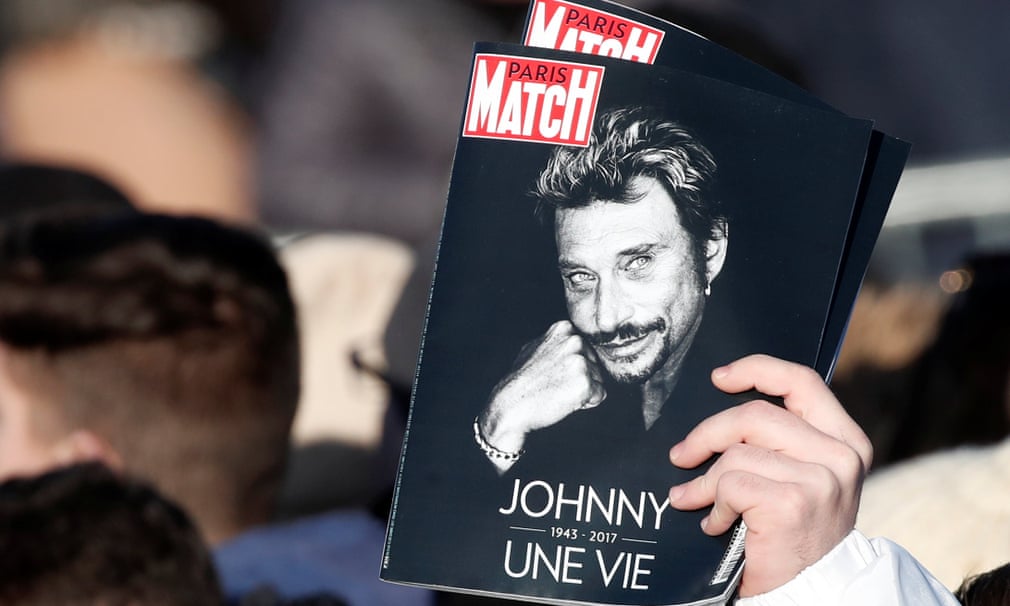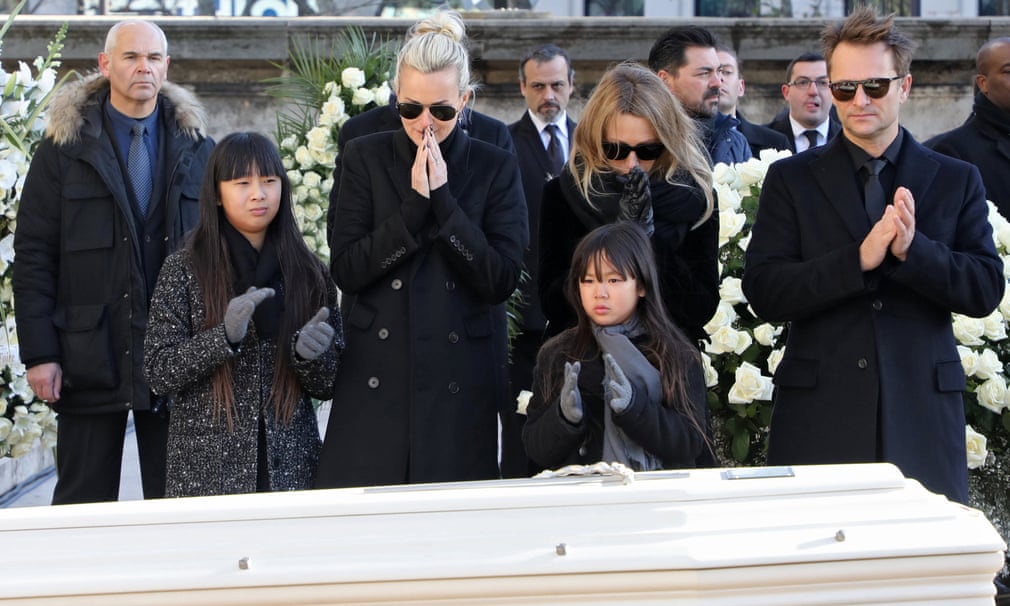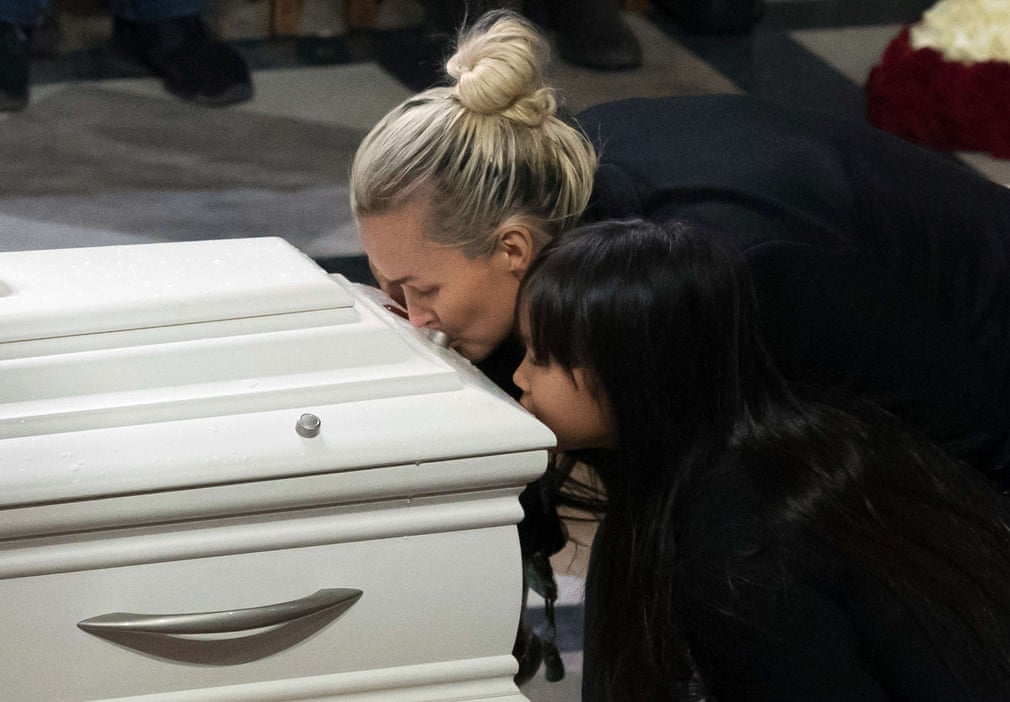 GUSTAVIA: The body of French rocker Johnny Hallyday was greeted by mournful fans late Sunday on the Caribbean island of St Barts, the paradise bolthole where the millionaire singer owned a cherished home and asked to be buried.
The star, who died of lung cancer on Wednesday aged 74, asked to be laid to rest there in a choice that has disappointed some fans who would have preferred his grave to be more accessible on the mainland.
The coffin was flown to St Barts on a Boeing 757 with 62 passengers onboard, including his wife Laeticia and their two children who will lead a private burial ceremony on Monday.
Several hundred fans — some of whom had traveled from mainland France — gathered to greet their musical hero at a vigil on the Caribbean island.
One by one they filed past the white, flower-decked coffin to bid good-bye, some posing for photos, others sipping from cans of beer.
"I used to see him in my store, he was a sweetheart," one mourner from St Barts told AFP. "To see his coffin, it hurts."
Jean Pierre and Chantal, both fans dressed in Johnny T-shirts, took an eight-hour flight from Paris to see off their idol in the tropical paradise.
"We understand why he wants to be buried here where things were good with his family," Chantal told AFP. "Even though it cost us, we did not hesitate."
Veteran fan Fred Bouton, 54, added: "I wanted to be with him right to the end because he always gave everything."
Hallyday was given a state funeral in all but name on Saturday. His death prompted an outpouring of emotion for a singer not seen since the passing of Edith Piaf.
Hundreds of thousands of people lined the streets of Paris to watch his white coffin, escorted by some 700 bikers, travel down the Champs Elysees.
Hallyday, once condemned as the rock 'n' roll "corrupter of youth" who went on to become a very French cultural icon, died of lung cancer on Wednesday.
With an untipped Gitanes cigarette often at his lip, he held France entranced for five decades with his spectacular stage shows and equally colourful private life, reinventing himself for each generation.