It might sound surprising – but the best part of the royal wedding for me was actually when I was discussing AND dissecting the highlights the following day with my girl.
And I imagine that most of the romantically inclined female population who watched it enjoyed chatting endlessly about it too!
I was curled up in bed as it was a 'resting' weekend, feeling warm and fuzzy and just really good and happy about it all.
And so was my friend. She was miles away in another country but she also curled up in bed all cosy and warm and happy in the after math of what could easily be classified as one of the most enjoyable and eventful day of our lives.
The only catch? We hadn't actually been at the wedding. But we felt as if we had.
We had anticipated it highly and we had tuned in at the same time to watch it on our television screens.
We lapped up every single detail of the wedding. We were riveted, spell bound and ill behoved anyone to switch the TV channel before the end. Even after the end we waited for the reruns and the commentaries and repeat highlights of the glorious event. We lapped it all up like a bunch of starving little kittens that'd just been exposed to a bowl of milk.
It tasted delicious to say the least. We savoured every sip and we left not a drop in the bowl.
It was that good.
And here's a bit of what our royal conversation sounded like.
"Girl did you watch the royal wedding?"
"Does the sun shine? I was seated and riveted and watched every single moment of it – from the arrival to the end."
"Girrrllll I did too. Exactly the same thing. As soon as the TV screen came on and it was playing I was paralysed. I didn't move an inch till the end."
"It was beautiful."
"So lovely. Simple, to the point and classy."
"Did you see Posh and Beckham when they came in?"
"Absolutely. It was so good to see them there."
"I love that couple."
"So do I, however, I thought that Victoria might as well have been comfortable at a funeral parlour. I absolutely hated the fact that she wore black. Great outfit though, but too severe."
"It wasn't quite black actually it was navy blue."
"Is that what the colour was? I didn't like it. It didn't work. It came off looking like black.'
"I love the outfit but I do agree that she didn't pull it off too well."
"Meanwhile David Beckham was looking like a hot tamale."
"Oh give me David Beckham for lunch and breakfast any day. He never disappoints."
"Love him."
"Love him."
Loving pause.
"But did you see Oprah though? Oh my heart sang for joy when I saw her. She always makes us proud. She looked so gorgeous. She came in with Idris Elba, did you see that?"
"Yes, Idris Elba and his babe. He was looking like 'take away.'"
"As usual."
"But can you please explain to me what his lady friend was wearing? Was that some kind of tribute to the British police – I mean that red and white line running down her outfit?"
"Honestly I don't know." Laughs. "Perhaps it was. A tribute to Scotland yard."
Laughs.
"You know the hottest guys always end up with the 'blah' girls."
"Are you telling me?"
"Oh Idris Elba."
Sigh.
Polite pause for Idris Elba.
"Girlrrrllll did you see Serena William's amazing fascinator?!!!"
"OMG it was something else. Tilted to the side of her head like that."
"She looked like such a babe! Her fascinator was so unique it stood out from the rest."
"It was really something. She always represents."
"And what about the moment Harry and William got down from the car and started to walk the walk? I swear I nearly fell off my chair!"
"I did a double take and I nearly fell off my bed!"
"Those guys are unreal. Just an over load of coolness."
"I simply cannot begin to explain how excited I was when I saw them or why."
"Same here! I mean I had to ask myself why. I couldn't contain my excitement"
"I feel a little bit ashamed of myself."
"Me too."
"I just…I just feel so proud of the English today."
"So do I. I swear."
"Did you see Sarah Ferguson?"
"Ofcourse I did!" Laughs. "She was just bubbly and excited wasn't she? Bouncing all over the place."
Laughs. "She was so happy to be there. It was kinda cute."
"Yes, like after all the scandals, they were finally giving her a break."
"She wasn't allowed to attend the last royal wedding you know."
"Yes Will and Kate's. But you can't blame them though can you. She really did a lot to hurt the family."
"Do you think that Harry knows the story?"
"Of course he knows but he looks like a softie at heart. He wanted to include her and make her feel like part of the family again…and that's sweet. I hear she and Harry are quite close."
"And did you see the cast of 'Suits'?"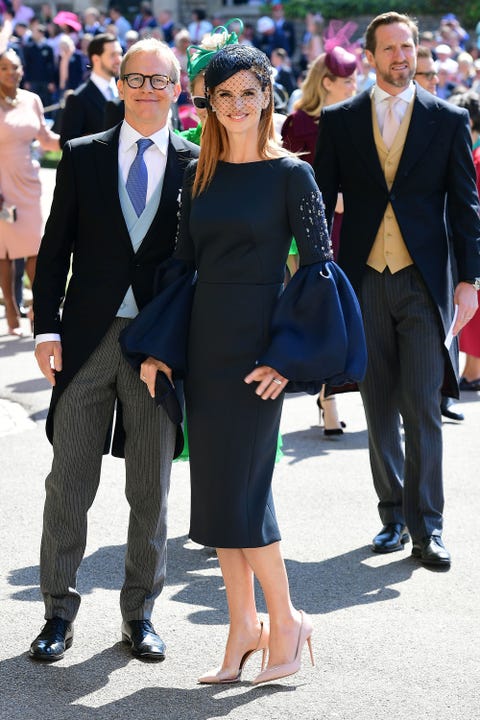 "No I didn't notice, I've never really watched suits."
"No way. So you haven't even seen the real Meghan Markle and what made her so popular on the screen?"
"I didn't know that was what made her so popular."
"Her acting was amazing. She practically made the series. Although now she's left the set obviously, I'm not sure the show will go on. I heard there might be a spin off and they might 'kill off' her character in the show…please go and look for Suits and watch it, It was such a good series."
"I will, I definitely will."
"She invited the entire cast members to the wedding. She's such a sweetheart and the cast members said that they're like family on set. The women call themselves the 'sister wives.'"
"How adorable. She is a sweet girl."
"And her mother – oh lord I fell in love with her mother. I was so proud of her. She carried herself ever so well."
"She looked amazing. I love what she wore. It was so befitting."
"Did you notice that she struggled not to cry from the beginning of the wedding till the end?"
"I did, I did notice that. But she kept it so together."
"I almost cried along with her. You could just see when she first entered the church that she was like – oh my is this really happening? I can't believe this is happening. – and she wanted to cry."
"Yes I totally feel her. She's so sweet. No wonder she had such a lovely daughter."
"But what about the dad? I was surprised he didn't show up, I heard he had some kind of medical condition…"
"Oh him." Stiffly. "Forget about him I don't even buy that medical excuse. I heard he said he wasn't going to come after all the drama and controversy."
"What controversy?"
"You didn't hear? It was all over social media."
"Is he the one who asked Harry not to marry Meghan? Yeah I think I heard something like that."
"That was her brother. He wrote an open letter to Harry asking him not to marry her cos she was a gold digger or some awful stuff like that."
"Just imagine that. Your very own family members."
"And to think that we think that our own families have mega drama sometimes."
"Girl this family clashing thing is a worldwide problem."
"You know a lot of brides go through so much before their wedding. But people never get to know half of the story. There is always one terrible drama or the other."
"Oh yes, I knew that a long time ago. It's like the negative forces just start to conspire against you. I mean imagine destroying the union of such beautiful souls."
"It should be a crime."
"Did you see the Choir leader's hair in the church? It looked so beautiful."
"So you noticed too?! I kept staring at it, I couldn't get enough of it. In fact, I couldn't get enough of the entire choir's hair."
"They were just sublime. And the music was oh my, the alleluia – they need to make a CD of the songs they sang. I would buy it in a heartbeat."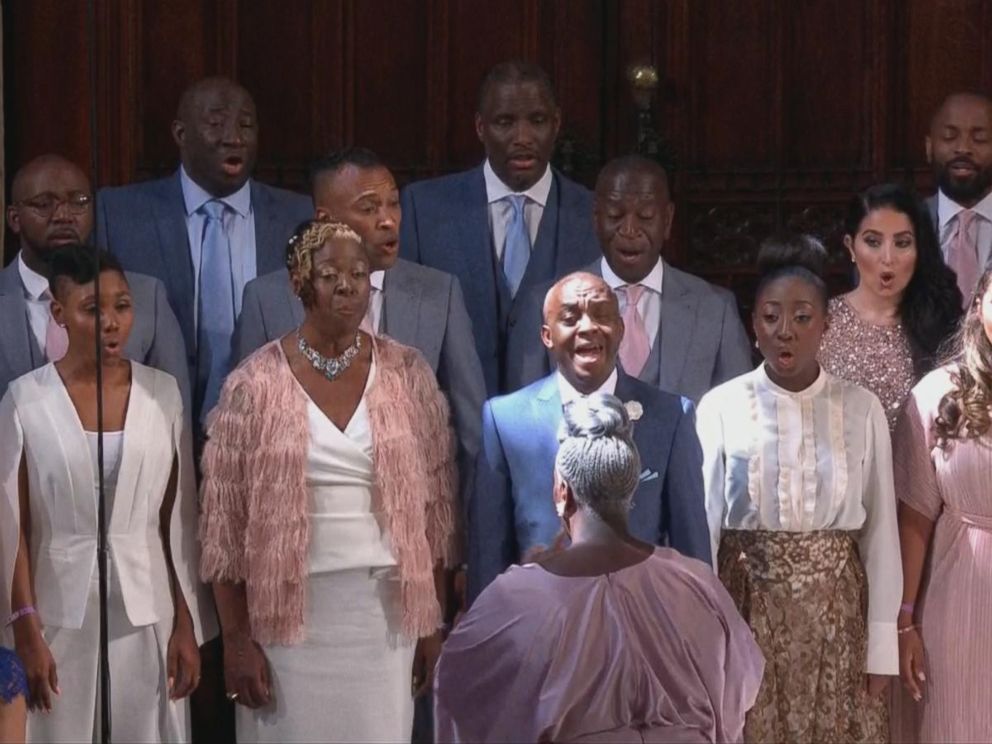 "I loved it. I also loved the yodelling. Did you notice the yodelling anytime Meghan came out? When she got down from the car and when she came out of the church after the wedding."
"It's called yulelating not yodelling."
"Oh yes, that's right."
"It's an African thing. I believe they got people to do that. I loved it."
"I loved it too. The African American touch was beautiful. They do that a lot in Ethiopia."
"They do it in Nigeria too. It reminded me of Nigeria."
"It seemed like they imported all those people from America. I love how they afro Americanised the ceremony up."
"I can't believe that they let that pastor up in the church. The Queen must have been like…"
Laughter.
"I know right? Love the guy. Loved every single minute and detail of the wedding. It was so enjoyable."
"It wasn't boring at all. Not a single dull moment. And the young man on the …what do you call that thing?"
"The Cello."
"Oh yes…the cello. Absolutely heavenly."
"But do you know my best part of the wedding? It was when Prince Charles took Meghan's arm and walked her down the aisle."
"Oh Lord have mercy. That was absolutely the best part. It was like he was saying – you are my daughter, I love you and I embrace you as part of the family. It was such a sweet gesture especially as her father wasn't there."
"Prince Charles is such a cool dad. And he made such an effort to make Meghan's mum feel so 'at home.'
"I noticed that too. I did."
"I heard they were going to make a surprise tribute to Diana, but I didn't get what it was. Did you?"
"Nope. Not a whiff. I didn't. Didn't notice her wearing anything like that."
"Could it be the tiara then?"
"No the tiara she wore was from the Queen before the Queen's."
"Oh was it? Mmmh."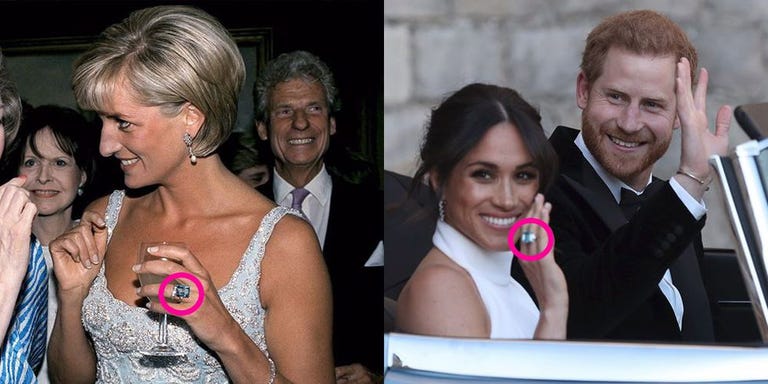 "Their first kiss was a beautiful moment too."
"Yes It was."
"And also when he lifted her veil and she just stared straight into his eyes – maintaining eye contact throughout as if to say – 'I'm here, I'm yours, we are the only people who matter at this magical moment'."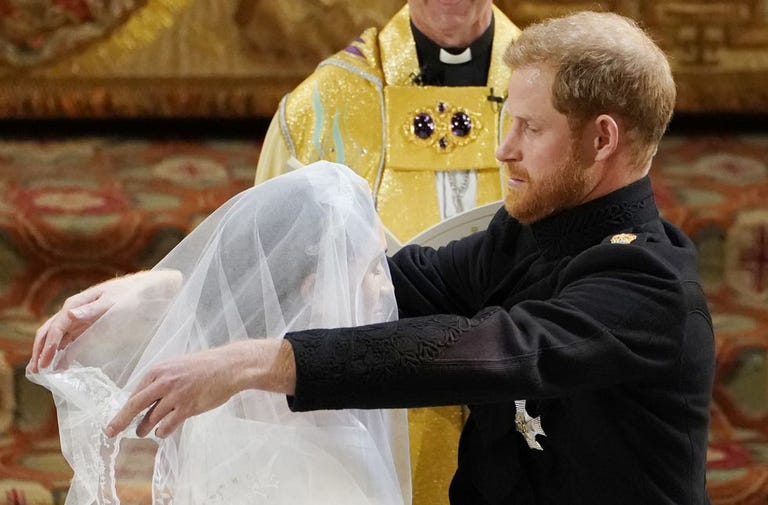 "So what did you make of Meghan's wedding dress?"
"Well I'm not going to lie to you but at first I was disappointed, but as time went on I began to warm up to the dress. It kinda grows on you. By the end of the wedding I was in love with the dress."
"Yes, I get it, but did you notice that it didn't quite fit her bod well? It was a bit loose in some places. Like a bit oversized."
"So I'm not the only one who noticed that? Yes I did get that…but in her defence…about the dress…I heard it was predicted even before the wedding that she was going to probably wear something a bit more simple so that she wouldn't upstage the future Queen of England's wedding – Williams wife Kate.'
"I don't care anyway, I just love this new royal couple. You know how simple and straightforward the wedding was shows what kind of people harry and Meghan are. They're good people."
"Simple down to earth people. I'm glad they didn't invite the whole of Hollywood."
"No frills no fuss."
"Harry even invited his non-profit organisations to the wedding."
"Wow. That's so awesome."
"They were the one's stood outside of the church."
"Oh really? Yeah I heard that there were three invitations to the wedding – one for the church, one to be outside and one for the after party/dinner."
"Yes, it's true and they were the hottest and hardest tickets to get this year."
"God bless their union."
"I'm so happy for them I couldn't believe how happy and excited I was to watch it. I almost felt as if I was right there with them. I had to keep pinching myself and asking myself what was wrong with me. Why was I so excited? Why did I feel so good?"
"Same here exactly!!! I can't believe how excited I felt too. So I wasn't the only one who felt like that? That's good to know."