Her name is Florence Griffiths Joyner. But everybody called her Flo-Jo.
Griffith was born in Los Angeles, California, seventh of eleven children born to Robert, an electronic engineer and Florence Griffith, a seamstress. The family lived in Littlerock, California before Florence Griffith moved with her children to the Jordan Downs public housing complex located in the Watts section of Los Angeles.
She dazzled the world with her trademark one-legged leotards and six-inch painted fingernails. She thrilled spectators with her speed. She was the fastest woman in the world. She still is. Her mark for 100m and 200m in 1988 have never been bettered. But just ten years after setting these landmark times, she would be dead.
She first burst onto the athletic scene on a scorching afternoon in Indianapolis at the US Olympic Trials in July 1988. Three records were set that day. Jackie Joyner-Kersee hit the heights in the heptathlon and Carl Lewis ran 9.78, albeit wind assisted.
The other was set in the women's 100m. The world record at the time was 10.76 set by Evelyn Ashford. But Flo-Jo ran a time of 10.49 in the quarter finals. The time was so fast a TV commentator said: "That cannot be, no one can run that fast …. 10.49 is just incredible."
But Griffiths-Joyner was even more impressive days later in the 200m. In the semis she shaved 0.15secs off the world record. Hours later she would reduce it further by 0.22secs to record 21.34secs.
Soon after her greatest triumph she quit the sport, aged 29. Months later mandatory random drug testing was introduced.
Seoul was full of talk of drug taking, especially after the expulsion of Ben Johnson, whose blood and urine was found to contain traces of the steroid stanozolol. Some rumous even claim that Flo-Jo had tested positive for performance-enhancing drugs at the 1988 Games along with Joyner-Kersee and the result was covered up.
She would point to the fact that she took and passed 11 drug tests in 1988. And she never failed a drug test in her life.
"I know exactly what people are saying about me," she said. "And it's simply not true. I don't need to use drugs. They can come and test me every week of the year if they want to. I've got nothing to hide."
Her husband said all the talk was down to jealousy. He said the amazing gains made by his wife was the result of being "trained like a man".
Beyond her running prowess, Griffith Joyner was known for her bold fashion choices. Griffith Joyner appeared at the World Championships in 1987 in Rome wearing a hooded speed skating body suit. In April 1988 she started wearing a running suit with the right leg of the suit extending to the ankle and the left leg of the suit cut off, a style she called the "one-legger". The running suits also had bold colors such as lime green or purple with white bikini bottoms and embellished with lightning bolts. Her nails also garnered attention for their length and designs. Her nails were four inches long with tiger stripes at the 1988 Olympic trials before switching to fuchsia. For the Olympic games themselves, Griffith Joyner had six inch nails painted red, white, blue, and gold. Although many sprinters avoided accessories which might slow them down, Griffith Joyner kept her hair long and wore jewelry while competing. She designed many of her outfits herself and preferred looks which were not conventional.
After her retirement from athletics, Griffith Joyner remained a pop culture figure through endorsement deals, acting, and designing.
During a flight to St Louis in April 1996 she suffered a seizure and was rushed to hospital. This recurred two years later.
On 21 September 1998 she suffered another and suffocated in her sleep. She was 38.
She died at home in the Canyon Crest neighborhood of Mission Viejo, California, at the age of 38. The unexpected death was investigated by the sheriff-coroner's office, which announced on September 22 that the cause of death was suffocation during a severe epileptic seizure. She was also found to have had a cavernous hemangioma, a congenital vascular brain abnormality that made Joyner subject to seizures. According to a family attorney, she had suffered a tonic-clonic seizure in 1990, and had also been treated for seizures in 1993 and 1994. According to the Orange County Sheriff-Coroner's office, the only drugs in her system when she died were small amounts of two common over-the-counter drugs, acetaminophen (Tylenol) and Benadryl.
Since Florence Griffiths-Joyner broke the 100m world record that sunny July afternoon in Indianapolis in 1988, the men's mark has been broken 13 times.
Her time of 10.49 still stands.
This is an extract from Euro news and Wikipedia.
Wiping records 'dishonours' Flo-Jo – says Al Joyner, husband of late sprint champion
The husband of American sprinter vows to fight moves by international athletics chiefs which could erase her long-standing world records from history.
The husband of late sprint queen Florence Griffith Joyner has vowed to fight moves by international athletics chiefs which could erase her long-standing world records from history.
Al Joyner, the 1984 Olympic triple jump champion who was married to the sprinter from 1987 until her sudden death in 1998, said attempts to invalidate world records set before an as-yet-undetermined date were unfair.
Joyner, 57, told the Wall Street Journal he was frustrated "to see how someone with a stroke of a pen, can go change history".
"That's dishonouring my family," he told the paper. "I will fight tooth and nail. I will find every legal opportunity that I can find. I will fight it like I am training for an Olympic gold medal."
Under rules set to be considered by the International Association of Athletics Federations (IAAF) in August, existing world records would only be recognised if achieved at approved international events and if the athlete concerned had been subject to an agreed number of doping control tests in the months leading up to the performance. A sample taken afterwards also would have to be available for retesting for 10 years.
European Athletics Council president Svein Arne Hansen said the move was aimed at removing "the cloud of doubt and innuendo that has hung over our records for too long". IAAF president Sebastian Coe is also backing the proposal.
Griffith Joyner, known popularly as "Flo-Jo", remains the fastest woman in history, holding the 100m best of 10.49 seconds set in 1988 and the 200m mark of 21.34 clocked at the drug-tainted 1989 Seoul Olympics.
Her brilliant career was touched by glamour, lucrative contracts, advertising deals but – despite no proof of any wrongdoing – was always under the shadow of allegations that it was fuelled by drugs.
She retired in February 1989 at the height of her earning power, just months after her record-breaking exploits in Seoul.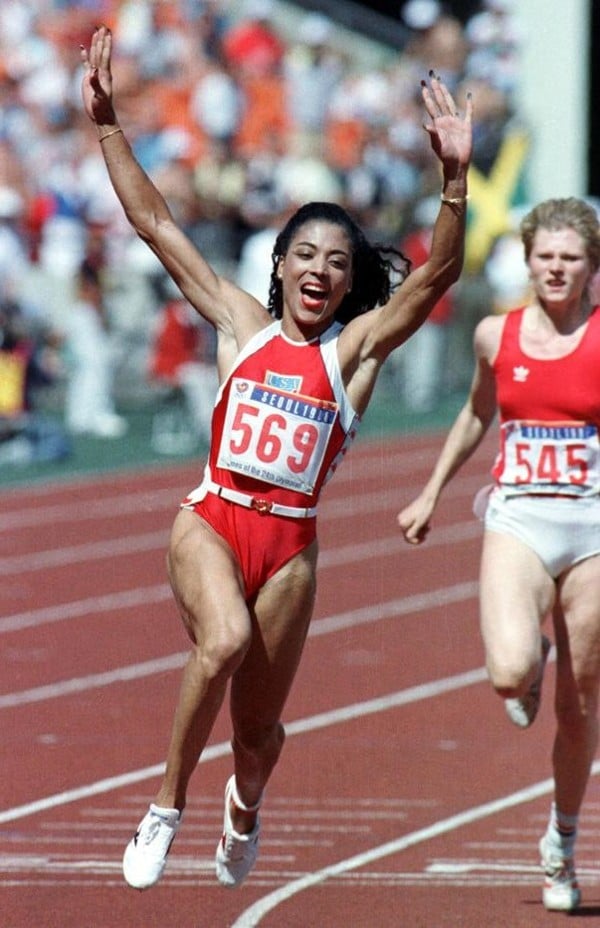 Griffith Joyner died in her sleep at her home in California in September 1998, at the age of 38 after suffering a severe epileptic seizure.
US athletics officials want to study the ramifications of the controversial proposal, given it would also affect those that have never failed doping tests.
The International Association of Athletics Federations (IAAF), the world governing body, did not start storing blood and urine samples until 2005, meaning records set before then could potentially be at risk.
"Any action pertaining to records, from 'retirement' of records to changing criteria for the record books, has the potential to affect records that are clean as well as those that are tainted," USA Track & Field (USATF) spokeswoman Jill Geer said on Tuesday. "There is no perfect solution, just as there is no perfect anti-doping system."
Apart from Flo-Jo's records, the proposal could also potentially see British marathoner Paula Radcliffe, a vocal critic of drug use in athletics, and triple jumper Jonathan Edwards lose their records since performances not meeting the proposed guidelines would no longer be officially sanctioned but would remain on the "all-time list".
Marathon world record holder Paula Radcliffe hits back as MP links her to doping
Radcliffe, whose mark was set in 2003, has branded the proposal "cowardly".
"I am hurt and do feel this damages my reputation and dignity," she said on Twitter.
Mike Powell's 1991 long jump mark and ­Hichman El Guerrouj's 1500m record from 1998 also would be under threat.
There is no suggestion that any took drugs.
The IAAF is expected to discuss the idea at its August council meeting and Geer said they would also talk about the proposal with their athletes and other athletics bodies.
"USATF will vet the matter with our athletes, fellow federations and the IAAF," Geer added.
"Ultimately, it is a matter for the IAAF family to examine and determine what is best for the integrity of the past, present and future of the sport on a global level."
Agence France-Presse, Reuters
This article appeared in the South China Morning Post print edition as: Wiping records 'dishonours' Flo-Jo: Joyner